Jungle Music and Aliens from New York City!
Liquid Sky and Jungle Sky have been involved in underground jungle music, dj, and fashion culture since the early 1990's.  Their iconic "Astro Girl Character" is familiar all across the world, featured in films, and promoted by major celebrities.  We talk with founder, Carlos Slinger, aka Dj Soul Slinger, a pioneer of American Jungle and Drum & Bass from San Paulo Brazil.
Astro Girl Design featured on classic comedy "Next Friday" with Ice Cube released in the year 2000.
SpeedySlaps: Tell us about the beginnings of your brand.
Liquid Sky: We started in 1990 and for the first couple years of Liquid Sky, I was a resident at Club Lime Light on Fridays called Future Shock! which brought down everyone from Moby to Prodigy and everyone big in the scene.  In 1992 and 93' was club Nasa, the hottest ticket in town and was widely talked about in the music industry for introducing break beats in the US.
Fast forward a year in 94', I met Marque Gilmore in an elevator and told him to come play with us at the first Jungle rave called Revoluzion at the Manhattan Center in New York City.  He became one of the first Jungle drummers / producers in our genre. 
The following year we performed the first ever Jungle tour in Japan, 14 cities with record label S.O.U.R which included artists Shy Fx, UK Apache, Dj Trace, T Power, DET Mc, Elizabeth Troy and myself (Dj Soul Slinger).
It has been 33 years of Liquid Sky and we are still trippin' with excitement for the fashion industry and music culture. The major project this year is to tell the story in a 300 page photo book including interviews with Moby, Dj Spooky, Gabriel Hunter, DB, DJ Delmar (one of the founders of Konkrete Jungle) and many others that represented the pulse of the rave scene.  
SpeedySlaps: Who is is involved in your book?
Liquid Sky: We are working with Marc Santo, publisher and writer and aiming to have the release by September of this year for all to purchase at liquidskynyc.com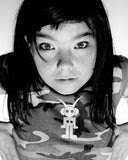 We bought the negatives from the photographer that booked a photoshoot with Bjork wearing our Liquid Sky t-shirt and will be shown for the first time in full color. (original black and white photo published New York Daily in 94' with an interview of Bjork)
SpeedySlaps: What is Ecosystem?
Liquid Sky: Ecosystem was the first electronic music festival in 2001 to bring awareness to human rights & rainforest preservation in Brazil.  We brought everyone in the Jungle scene including Randal and Dj Krust.  The event was forty-five thousand people strong!  All proceeds were donated to Greenpeace, which worked with us to set up the first eco-friendly rainforest event of its kind in history. 
"Knowledge Magazine even covered and attended the event"
Our story is very deep involving musicians from across the globe in and out of the Jungle movement.  We are excited to release the new Astro Girl 3D doll and from there maybe we can have a partner in the fashion industry to further push the brand, maybe even introduce a video game!
SpeedySlaps: Is there going to be a sticker page in your book?


Liquid Sky: Since 1994 we have given away stickers with our merch and is truly an essential tool in my business, which is the underground street wear, skate, and music industry, so of course!
Vintage Liquid Sky Stickers Liquid Sky LLC. Mid 1990's.
"Stickers are a form of communication."
We love to surprise our fans with stickers, it makes them happy.  Most of the time they are all different and limited edition, which is why we love your new Small Batch Collectibles which we can sign and make them a more authentic addition to our merch and brand.  
SpeedySlaps: Do you think stickers improved sales in your business over the years?
Liquid Sky: 
Absolutely. I don't use business cards, I have stickers. We are living in 2023 after all!
SpeedySlaps: Awesome! Thank you for sharing your story and brand with us.  We are very excited to pick up a copy of your book. For all the Liquid Sky and Speedy Slaps fans out there, we have created an official collaboration sticker insert in both gloss and our rare cracked ice holographic. These are available to scoop up when you place orders with us at our shop speedyslaps.com
Official collaboration featuring Liquid Sky's "Astro Girl" 1S 2023 | Speedyslaps Free Sticker Insert Series | 2023 All Rights Reserved.